Apple Computers
Apple has partnered with the University of Saskatchewan to offer education pricing for Macs and iPads through Shop USask's partner site on the Apple online store. All current and newly accepted students and their parents qualify, as well as faculty and staff.1 Click on any of the models of Mac or iPad below to find more information along with links to redirect you to Apple's website where you will be able to make your purchase.2
With the majority of students now having to take their classes remotely the University has provided recommended laptop specifications to best meet the needs of online classes, which you can find at this link.
Click this link to browse our selection of Apple accessories, including power adapters and iPhone chargers.
MacBook Air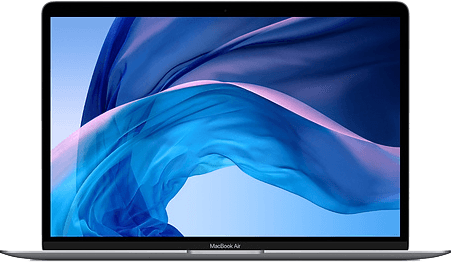 The incredibly thin and light MacBook Air is now more powerful than ever. It features a brilliant Retina display, new Magic Keyboard, Touch ID, processors with up to twice the performance, faster graphics, and double the storage capacity. The sleek wedge-shaped design is created from 100 percent recycled aluminum, making it the greenest Mac ever. And with all-day battery life, our most popular Mac is your perfectly portable, do-it-all notebook. Available in 13" in either Space Grey, Gold, or Silver.
MacBook Pro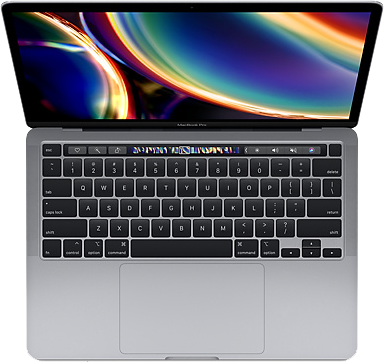 Designed for those who defy limits and change the world, the new MacBook Pro is by far the most powerful notebook Apple has ever made. With an immersive Retina display with True Tone technology that adjusts the screen to match the colour temperature around you, superfast processors, next-generation graphics, a dynamic soundstage that feels and sounds wider than its physical dimensions imply, Magic Keyboard, Touch ID, Touch Bar, the largest battery capacity ever in a MacBook Pro,, and massive storage, it's the ultimate pro notebook for the ultimate user. Plus, with Apple Pencil and an Apple Pencil compatible iPad, you can extend your desktop by using your iPad as a second display. Available in 13" (pictured) and 16" in either Space Grey or Silver.
iMac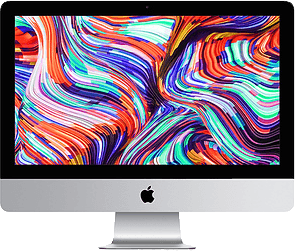 The vision behind iMac has never wavered: transform the desktop experience by fitting powerful, easy-to-use technology into an elegant, all-in-one design. The new iMac takes that idea to the next level - giving you even more amazing tools to do just about anything. Featuring a 4K or 5K screen, iMac is packed with the latest processors, faster memory, and phenomenal graphics. All coming to life on the brightest, most vibrant Retina display ever on an iMac. It's the total package - powered up. Available in 21.5" (pictured) and 27".
iMac Pro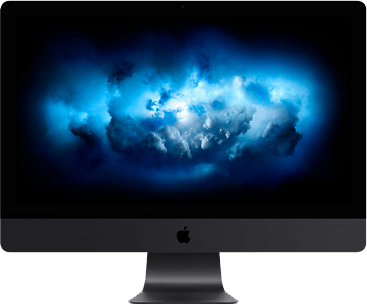 iMac Pro is packed with the most powerful graphics and processors ever in an iMac, all behind a breathtaking Retina 5K display in a sleek, all-in-one design. Featuring Radeon Pro Vega graphics and enhanced stereo speakers, iMac Pro is able to display higher frame rates, real-time 3D rendering, more lifelike special effects, and gameplay at max settings while allowing you to hear that crashing cymbal, multilayered effect or sample-based sound, all with remarkable fidelity. For everyone from photgraphers to musicians to software developers to scientists, iMac Pro is ready to turn your biggest ideas into your greatest work. Available in 27".
Mac Pro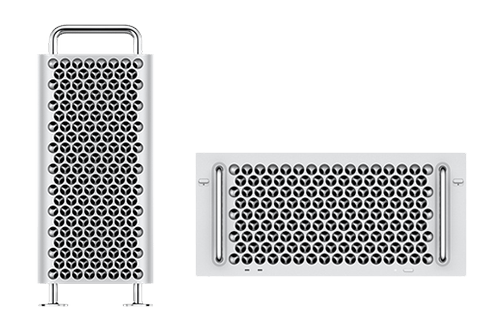 Say hello to a Mac that is extreme in every way. With the greatest performance, expansion, and configurability yet, it is a system created to let a wide range of professionals push the limits of what is possible. Built around a stainless steel space frame, an aluminum housing lifts off, allowing 360-degree access to every component and vast configuration. From production rendering to to simulating an iOS app on multiple devices at once, Mac Pro is exceedingly capable. Available as a tower (pictured left) or in rack configuration (pictured right).
Mac Mini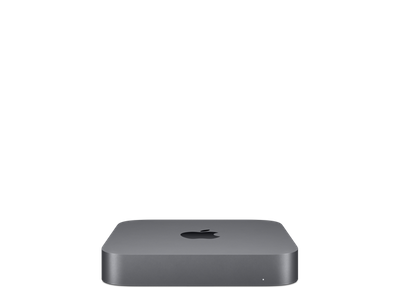 In addition to being a great desktop computer, Mac mini powers everything from home automation to giant render farms. And now, with eighth-generation Intel quad-core and 6-core processors, Mac mini has even more computing power for industrial grade tasks. So whether you're running a live concert sound engine or testing your latest iOS app or iPadOS app, Mac mini is the shortest distance between a great idea and a great result. Available in Space Grey.
Pro Display XDR
The first Retina 6K display ever. Capable of producing over a billion colours at nearly 5 timesthe brightness compared to typical desktop displays, the Pro Display is able to display as true-to-life imagery as a display possibly can. It's stable without taking up much space, and the ability to rotate to landscape or portrait makes it perfect for any type of work. Featuring a magnetic connection on the back to pair with the Pro Stand or the VESA mount Adapter (both not included). Available in 32".
iPad Pro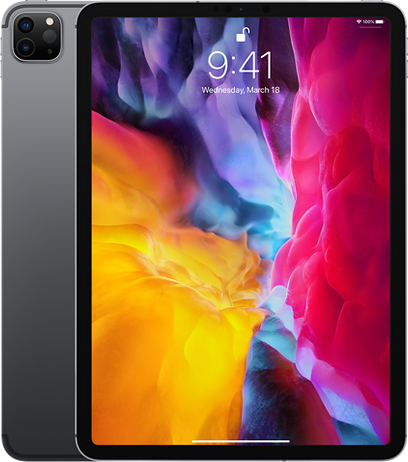 Pushing the limits of what a tablet can do, iPad Pro is so fast that most PC laptops can't catch up. Featuring pro cameras on the back that can transform your reality with Wide and Ultra Wide settings, a TrueDepth camera on the front for use with Face ID or FaceTime calls, and an edge-to-edge Liquid Retina display with industry-leading colour accuracy. For the first time on an iPad, pair with the Magic Keyboard for iPad Pro (sold separately) that features a built in trackpad that will open up entirely new ways to work on an iPad, and with the Apple Pencil (also sold separately) photo editing has never been easier. With up to 10 hours of battery life, iPad Pro is incredibly capable and will keep up with you wherever you go. Available in 11" (pictured) and 12.9" in either Space Grey or Silver.
iPad Air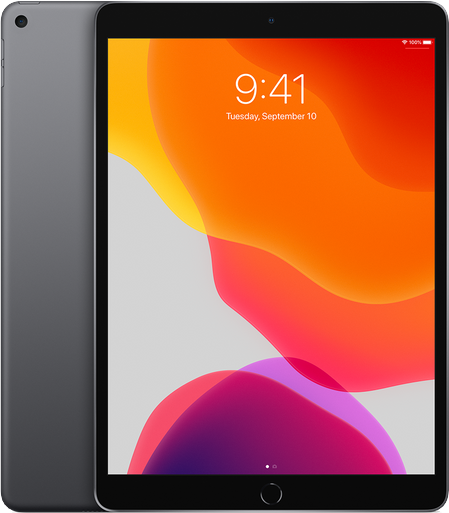 Everything you need in just a pound. iPad Air features a large 10.5-inch Retina display with wide colour that lets you see photos, videos, and games in vivid, true-to-life detail. The front and back facing cameras allow you to take stunning photos, record 1080p HD videos, and scan documents so you can sign it and send it right back. Pair it with the compatible full-size Smart Keyboard (sold seperately) to write an academic paper or create a presentation, and folds into a slim, lightweight cover when you're done. Also pair with Apple Pencil (also sold separately) to enjoy the precision, responsiveness, and natural fluidity of a traditional writing instrument, whether you're sketching or writing notes. With up to 10 hours of battery life, iPad Air goes where you need to be. Available in 10.5" in Space Grey, Silver, or Gold.
iPad
The new iPad combines the power and capability of a computer with the ease of use and versatility you would never expect from one. With a 10.2-inch Retina display and support for the full-size Smart Keyboard (sold separately) for more comfortable typing, you can easily edit a document while researching your topic and making a FaceTime call to a colleague at the same time. For tasks that require more precision, there is also support for connecting a Trackpad or Magic Mouse (both sold separately), or for a more personal touch use the Apple Pencil (also sold separately) to be able to write in your own hand. With up to 10 hours of battery life, iPad's versatility along with its thin and light design mean that it can follow you wherever your life takes you. Available in 10.2" in Space Grey, Silver, or Gold.
iPad Mini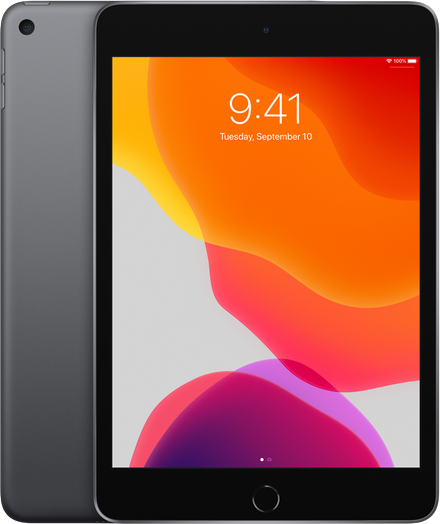 Mini just got mightier with iPad mini. With it's 7.9-inch Retina display containing over 3 million pixels paired with a thin, light, and portable design, iPad mini is the perfect on-the-go companion. Featuring an 8 megapixel back camera and a 7 megapixel front camera, you will be able to take vivid photos and cinematic videos on top of group FaceTime calls and document scanning. When you pair it with the compatible Apple Pencil (sold separately), iPad mini becomes your take-anywhere digital notebook for you to jot down notes, sign documents, or sketch on the go. Available in 7.9" in Space Grey, Silver, or Gold.
1 Personal purchases only, no method of department funds will be accepted. Please contact IT Acquisitions for any departmental inquiries or professional purchases.
2 All purchases are to be made through Apple's website only and cannot be made in store.