FAQ
Have any questions about how to get your course materials? We've got you covered - click on one of the questions below to get started.
What is the process for getting my textbooks?
We have changed to a primarily online-based system of ordering textbooks, and as such textbooks are no longer housed on the store floor. Because of this, we are asking students to order their course materials in advance to make sure that they are ready by the time classes begin. You can do this by having your textbooks shipped to you with Canada Post, or by choosing to pick up your textbooks at an available pick-up location.
How do I find my textbooks?
If you click on the "Course Materials" tab above and click on "My Textbooks" in the resulting dropdown menu, you will be prompted to log in with your NSID. Once you have done so, you will be presented with your booklist that corresponds with each of your courses. If there are used titles available, your list will contain both new and used titles so you can select your preference. Please note that if you do not see any course materials listed for one of your courses it could mean that you are not required to purchase anything for your course, or it could mean that your instructor has not provided a list of course materials to us. Please consult your syllabus or contact your instructor if you require further clarification.
Click on "Course Materials" in the navbar above, and select "My Textbooks" from the dropdown menu.

On the following screen you will be prompted on the next screen to log in with your NSID and password.

Once you've logged on you will now be able to see your booklist. In cases where more than one version of a title is listed, determine which option is right for you and purchase that version. Unless otherwise specified, you are not required to purchase every title.

How do I get my physical textbooks?
When you order physical course materials online you will have two options of how to obtain your items.
Please note that this process is only for customers shopping within Canada. If you are an international customer and need an item shipped to you email bookstore@usask.ca to ask for a shipping quote.
How do I get my e-texts or any other digital materials, such as a software redemption key?
All e-texts or digital materials, that are bought individually and not as part of a larger textbook package, will always be emailed to you, even in cases where digital items are purchased alongside any physical items. If you purchase an e-text by itself it will trigger a separate pick-up option during your checkout called "Digital Etext Delivery," and likewise if you purchase a digital redemption key for software it will trigger an option called "Digital Software Delivery." Please remember to select either of these options and that you do not select shipping, otherwise you will be paying for shipping fees when there is nothing to be sent to you. Some items are difficult to tell whether they are digital or physical, so if you happen to be buying an item and you see a "Digital Delivery" option, that is your indication that you are purchasing a digital item. This option only appears when your cart contains digital materials and nothing else, so for example if you are purchasing an e-text alongside a physical textbook you will not have this option available.
Please note that emails containing redemption codes for e-texts will be sent to you automatically, while emails containing software redemption keys need to be manually processed. Because of this, software redemption emails will only be sent Mondays through Fridays from 8am - 4pm.
If you have yet to receive either email, please remember to check your junk folder.
What you will see if you purchase an e-text: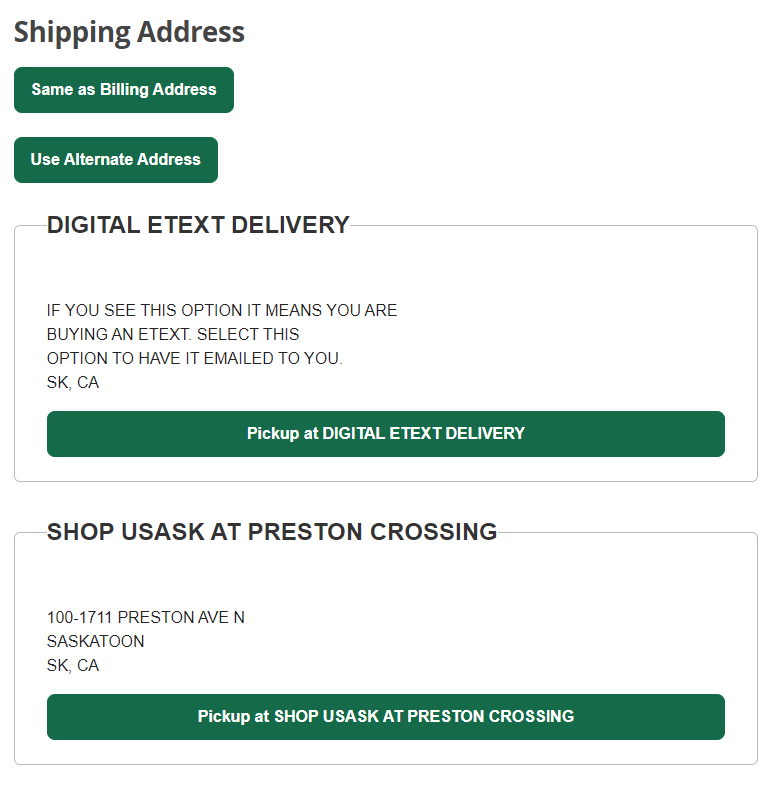 What you will see if you purchase digital software: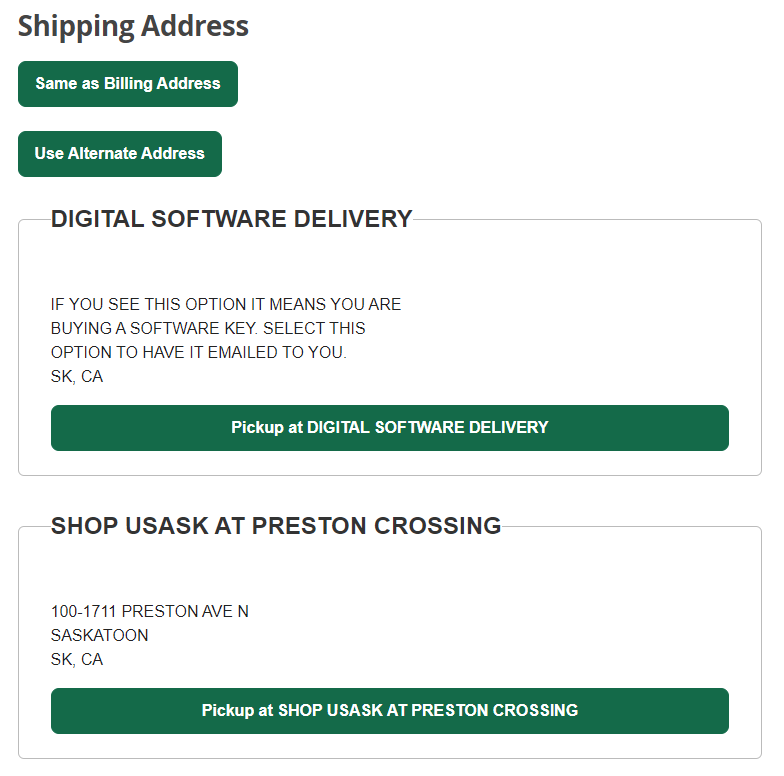 How do I redeem my digital items?
If you purchase an e-text or any other digital course materials, you will need to first redeem the access code that was sent to you through this link. This page also contains information on what to do should you experience any problems accessing your digital items, so please consult it first if you are experiencing any difficulties. If by chance none of the solutions mentioned on that page solves your problem, make sure to contact Campus eBookstore Support.
If you purchase any software that requires that a redemption key be emailed to you, your redemption email will contain a link where you will redeem your software alongside your redemption key.
I just need lab supplies, including a lab manual. What do I do?
Please do not place an online order if you are buying any lab supplies or a physical lab manual. Often there is plenty of stock of lab supplies and lab manuals, and you will get yours much faster if you come to purchase one in person from Shop USask Bookstore.
All other textbooks, including digital lab manuals, still need to be ordered online. If you are looking to order lab supplies or physical lab manuals alongside other course materials, then you will also need to still place your order online.
How fast will orders be processed?
Typically orders take 2-3 business days to process, however during the rush periods at the start of every semester it will take approximately 3-5 business days due to the extremely high volume of orders being placed. To get around this and to ensure that you have your course materials on time for your classes, we strongly recommend ordering your textbooks early. Orders are always processed in the order that we receive them so unless it's an absolutely dire situation we will not be taking any requests to bump your order up in line.
How can I change my order after it has been placed?
If you need to make any changes to your order it is crucial that you contact us ASAP, especially in the following scenarios:
You need to modify your shipping address
You need to cancel an item
You need to swap an item out for another
Modifying an address or cancelling an item can be done up until we process the order. Swapping an item out for another may require us having to contact you for additional payment in cases where the replacement item is of greater value than the original. If the replacement item is of lesser value, then your original preauthorization will cover the cost of the replacement and any remaining funds will be automatically returned back to you. It may take several days for it to appear on your bank statement depending on your financial institution, so if you do not see it on your bank statement right away do not be alarmed.
For information about how to initiate a return please click here.
I ordered a book marked pre-order along with other items. Can I get the other items right away?
We are able to partially fill orders, meaning that if you order any items alongside a pre-order item then we can charge you for the items that we currently have in stock while leaving your order open until your pre-order item arrives. Once the item arrives then it will be charged with the remaining funds left on your order.
How do I place my order if I am a student sponsored by a band or agency?
In order to place orders as a sponsored student, please know that your sponsoring agency is responsible for setting up your account. If we have no record of your sponsorship, you need to confirm with your sponsor that you have been approved for funding, or that your sponsor has submitted the correct documents to us. Once the documents have been submitted it typically takes 1-2 business days for the account to be set up before any orders can be placed. If your sponsor has submitted your documents and you are still unable to place an order, it could mean that your sponsor has submitted the incorrect paperwork or that your funds are on temporary hold.
If your band or agency has not set up an account with the University then they will need to contact the Treasury Office, who will then request the fund numbers through the Controller's office. This process can take some time, so if you are stuck and do not know the status of your account then you will need to contact your sponsor or your band.
Once you have confirmed all of this and you are ready to order your items, you will be free to place an order through this link, which will allow sponsored students the ability to use their sponsorship account during checkout where, depending on whether you are enrolled with USask or the FNUC, you will be prompted to input your NSID or your Student Number. You will receive a confirmation email once you have placed your order, and then you will receive a second email once your order is ready for pick-up or if it has been shipped.
Please note that you will only be able to purchase items that you have been approved for by your sponsor, so you may be contacted by our staff if there are certain items you have ordered that cannot be charged to your account.
If you have any further questions, email us and we will get back to you as soon as we can.
Once you advance past the order review window, you will be prompted to enter either your credit card number or your sponsorship account. The prompt for your credit card only exists if there are certain items in your cart that you have not been approved for.

Please note that you will only have the ability to pay with a sponsored account if you go through this link, which allows for the sponsored button to appear during your checkout.


Once you select that you want to pay with your sponsorship account, the next screen will ask for you to input your NSID or your student number. If you are a USask student, your account information will be provided to us through your NSID, likewise if you are from the FNUC then your account will be listed under your student number. Please keep this in mind when placing an order because if you accidentally provide the wrong information then we may not be able to find your account.

Please note that just because you were able to successfully place an order does not guarantee that you will be able to receive all of the items you requested. We will not be able to tell until we manually put your order through on our end if you have requested items that you were not given approval for, so if that happens then we will need to contact you.
Still need help? Contact us.
If none of the above answers were able to solve your problem, email us and we will get back to you as soon as we can to try and help you out.